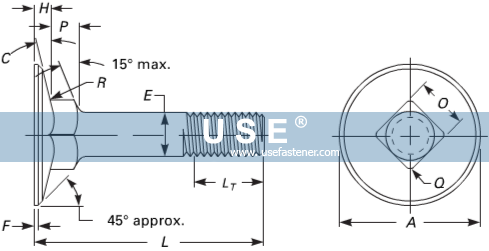 Dimensions of Flat Countersunk Head Elevator Bolts (Inch) 

Nominal Size
or Basic Bolt
Diameter
[Note (1)] 

Max. Flat on Min. Dia. Head,F

Maximum Corner Radius on Square,Q

Maximum Fillet Radius,R[Note(2)] 
GENERAL NOTE: For additional requirements, refer to section 2, General Data.
NOTES:
(1) Where specifying nominal size in decimals, zeros preceding decimal and in the four th decimal place shall be omitted.
(2) The minimum radius is one half of the value shown.